Before you study Pythagoras theorem, you are advised to study:

What is Right Angle Triangle ?

Pythagoras was a Greek philosopher of 6th century B.C. who had given a theorem used in right-angles triangle and hence this theorem was named after him and called as Pythagoras Theorem.

Pythagoras Property or Pythagoras Theorem says that "The Square of the Hypotenuse of a Right Angle Triangle is Equals to the Sum of Squares of its Legs"

In short we can write it as:
(Hypotenuse)2 = (Leg 1)2 + (Leg 2)2

Since legs are the other two sides of right angle triangle, so we can also write it as:
(Hypotenuse)2 = (Side 1)2 + (side 2)2

Example: In the following figure of △ ABC: right angled at B: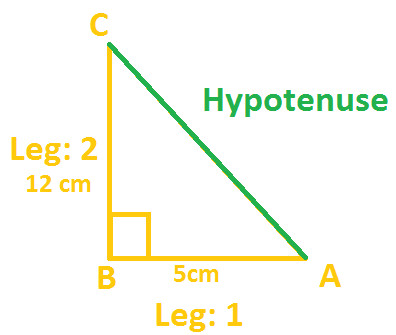 Leg 1 = AB = 5 cm
Leg 2 = BC = 12 cm
And we have to find hypotenuse i.e. AC ?

Apply Pythagoras Theorem and we get:
(Hypotenuse)2 = (Leg 1)2 + (Leg 2)2

Or we can also write it as:
(AC)2 = (AB)2 + (BC)2

Put the values of leg 1 and leg 2 from above and we get
(AC)2 = (5)2 + (12)2

Solve brackets on R.H.S and we get:
(AC)2 = 25 + 144

Solve addition expression on R.H.S. and we get:
(AC)2 = 169

Take square root of both sides and we get:
AC = 13

Hence, hypotenuse = 13 cm

Since, you have learn that Pythagoras Theorem applies to right angle triangle only, so this also concludes that:
In a triangle, if Pythagoras theorem hold true then triangle must be Right Angle Triangle

Here, you must also note that Hypotenuse is the Longest Side in Right Angle Triangle.




Study More Solved Questions / Examples